How to Take Care of Your Designer Shoes
You've finally found your dream pair of shoes, but how do you keep your brand new accessories from getting worn out?
Whilst your shoes may be there to keep your feet safe from the outside world, your shoes need someone to protect them too. A well protected and cared for shoe will function better, last longer and maintain appearance for much longer than those left to fend for themselves.
Whether you're here to find out how to care for your first pair of designer shoes or your hundredth, by following a few easy steps you can ensure your shoes get the best chance in life and stay just as gorgeous as the day they arrived at your door! Quality shoes can last for decades if given the TLC they deserve.
You probably don't need me to tell you that when it comes to damage or wear and tear, prevention is infinitely better (and cheaper) than treatment. There are plenty of products on the market aimed at helping prevent shoe staining or damage, including specific treatments for different materials.
Whatever the material of your shoes and the climate you wish to wear them, you'll be able to find a spray created specifically for you. If you've gone for a smooth leather, you'll want to look into getting a soft leather treatment for your shoes. If you prefer a suede or fabric shoe, you'll need a spray that is rainproof and prevents staining and water marks, this is especially crucial if you live in an environment with unstable weather or harsh winters.
Whichever spray you choose to go with, you'll need to make sure to reapply the spray when you need to, for most sprays this would be every 2-3 months for shoes you wear regularly, but it's always best to check the directions for use beforehand, paying close attention to which materials it is suitable for.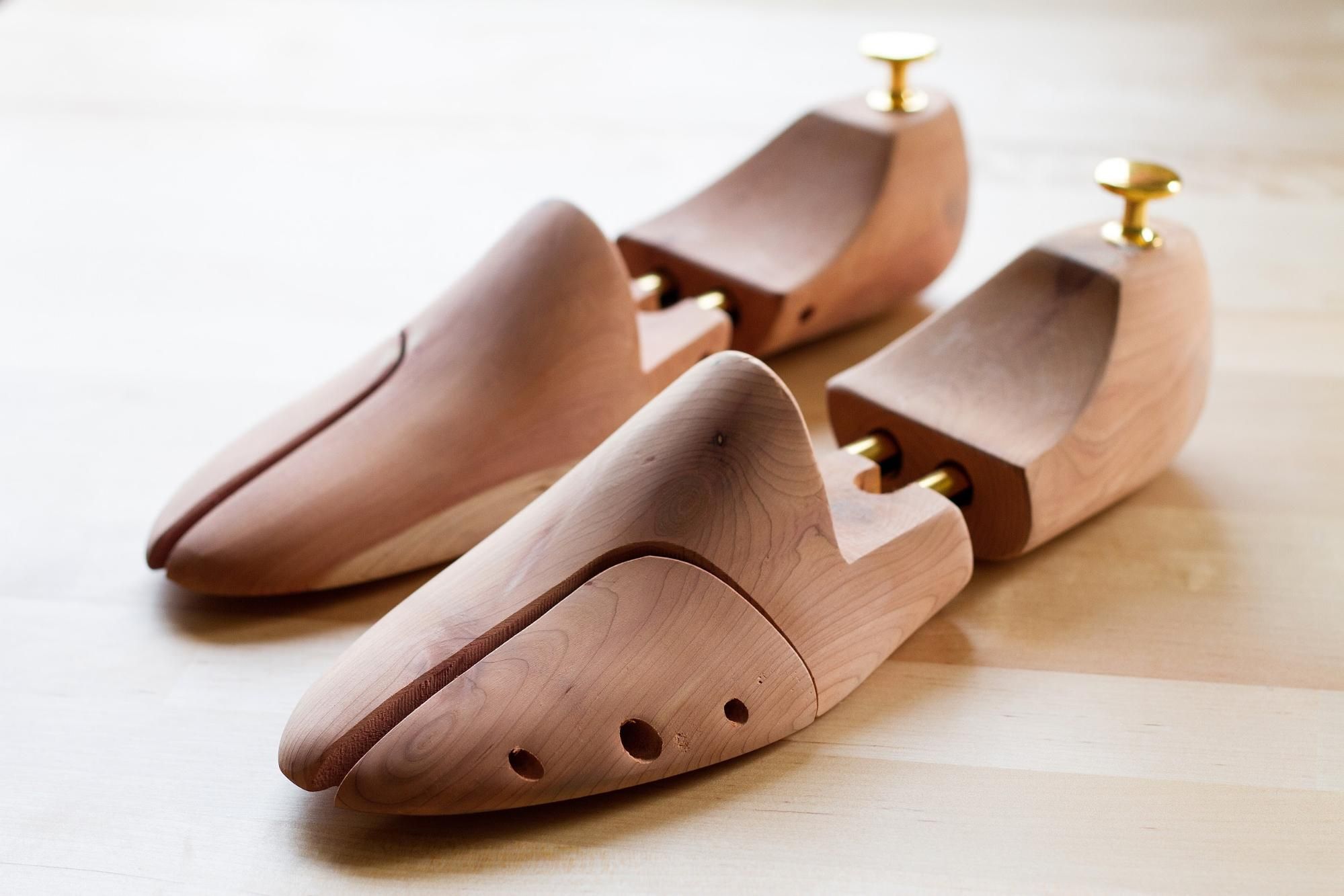 Whilst it may be obvious that your shoes can become damaged whilst on your feet, many people don't consider the damage that can come to them in the safety of your own home.
The best place to store your shoes is in a shoe box, which can be purchased online if you haven't got one for them! Then store the boxed shoes in a cool and dry place away from sunlight. In order to preserve your shoes and prevent them from becoming misshapen during storage, make sure to keep shaped tissue paper in the toes if you have some handy. Alternatively you can shop around for some shoe trees which work as 24/7 feet, specifically designed to keep the shape all along the shoe and also prevent odor build up.
Shoe trees are especially important for closed leather shoes, as they can absorb the moisture from your feet throughout the day, and this can cause them to dry out in unusual positions if they are left without support, which can lead to misshaping and cracking of the leather.
If you have several pairs of shoes you want to keep correctly shaped, it may seem daunting that you'll need to invest in a shoe tree for each one. One key thing to remember is that a shoe tree is a whole lot cheaper than another pair of shoes, and while it can be useful to have one for each pair, you don't necessarily need to. Just remember to keep swapping your shoe trees around throughout the week so no shoe feels neglected.
When shopping around for shoe trees, keep in mind that they are not all created equally, whilst it can be tempting to go for the cheaper option, remember to read up on the reviews for each one to make sure you're getting good shape and quality for your money.
If you do keep your shoes stored in their boxes, don't forget to check on them regularly, this can be a common setback many shoe connoisseurs face when they go to retrieve a very special pair they haven't used in months, only to find there has been a storage problem or the shoe has deteriorated. The earlier you can catch a problem, the easier it is to solve!
If you prefer to keep your shoes out on display for the world to see, that's fine too. Be sure to keep them clean and dry, away from particularly humid rooms and out of direct sunlight. Shoes kept out can also be coated with a protection spray to protect them from the odd splash of water, dirt or dust creeping into the material.
When traveling, it would be ideal to have all the space in the world to take as many shoes as you wish in their boxes, but this generally isn't the reality many of us face when packing our shoes for a holiday, business event or family trip. This doesn't mean you can't take a nice selection with you, as there are options available designed specially for travel storage.
The best way to store your shoes to travel is in a dust bag, this not only prevents dust and dirt from getting to your shoes, but if you ensure you choose a bag with two separate pockets (one for each shoe) then they are safe from scuffing from both the outside world and each other. Shoe bags are a far more compact way of packing your shoes, so you can take even more with you!
Whilst this may seem like an extreme length to go to, for that perfect pair of shoes it might just be what you need. Leather soles can wear down extremely quickly, causing your brand new shoes to deteriorate at an unexpected rate. If they are shoes you wear regularly, getting the soles protected with a rubber sole, which is attached by a shoe cobbler over the top of your shoes original sole, not only prevents wear and tear, but also stops water getting into the shoe and travelling up the material, which can lead to detrimental consequences.
Shoe cobblers often have a wide variety of colours available, you may not even notice an aesthetic difference to your shoes at all, and they are available for both flats and heels.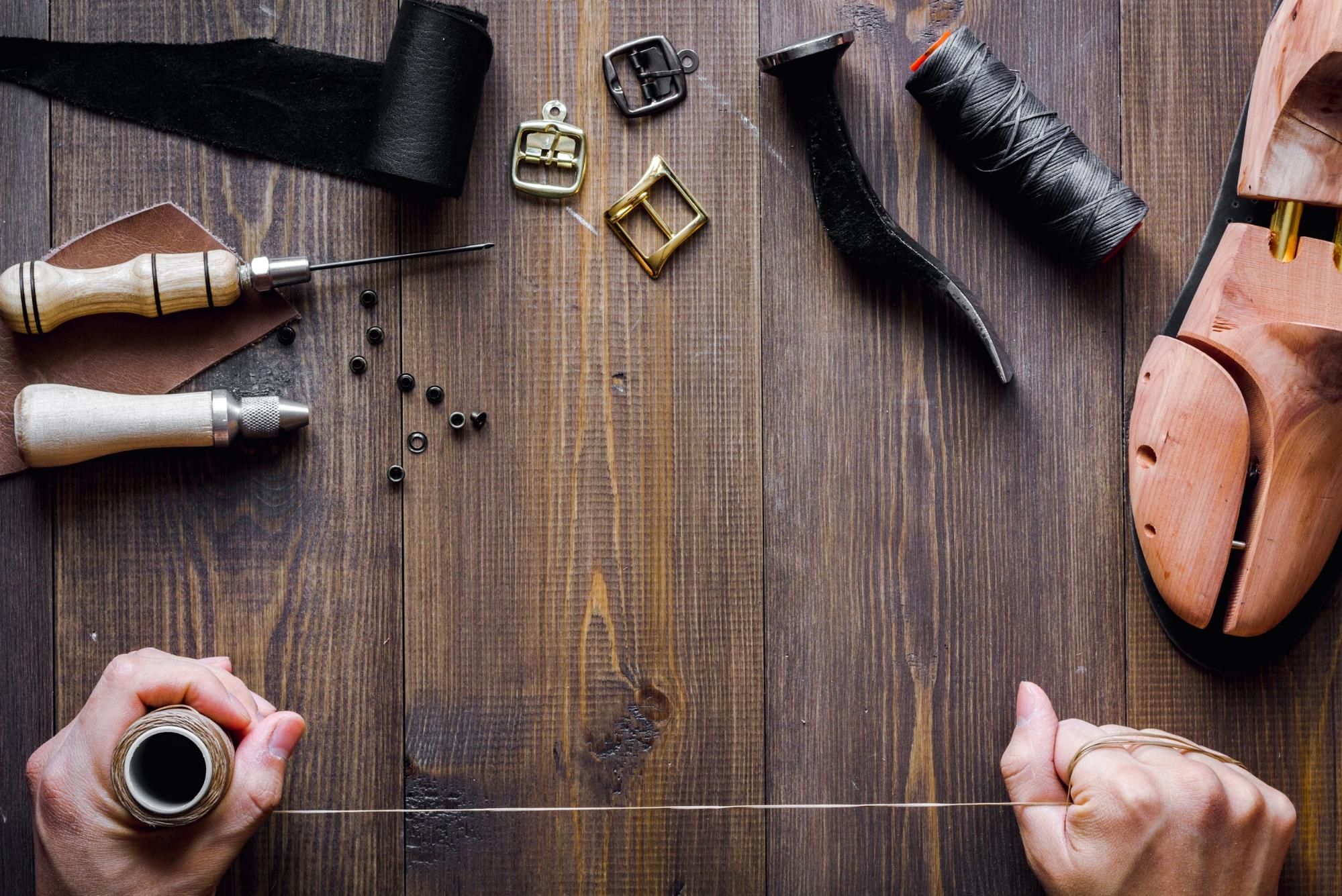 If you've come here too late, or you want to be prepared for the future, you may want to know the best steps to take if you're already noticing damage to your designer shoes.
Visiting a shoe cobbler at the first signs of damage or deterioration allows an expert to make adjustments, repairs and prevention to any further damage. The earlier you see a cobbler, the easier the repair may be, so don't wait for a bad situation to get worse before visiting your local shoe doctor.
Whichever shoes you've picked out from our shop, you've now got all the knowledge you need to make sure they stay in tip top condition for as long as possible. Whether you've been tempted by our soft leather, gorgeous suede or a material shoe such as our occasion satin shoes, you can rest easy knowing you can care for them exactly how they need!